Our Team
Kelly Barnes
Kelly was raised in Chateaugay, NY where she excelled at soccer, basketball, and softball. She
played Division I NJCAA soccer and basketball at Mater Dei College and finished her collegiate
basketball career at SUNY Utica. She worked for several years as an Adventure Based Counselor,
utilizing team building skills and high and low ropes courses with at-risk adolescents. That
experience sparked her interest in Sports Psychology, connecting her therapy experience with her
love of sports.
Kelly came to Arizona to pursue her graduate degree at ASU in Kinesiology/Sports Psychology. She
was introduced to exercise physiology while interning at the Kronos Institute of Longevity and found
that her passion for exercise physiology is the perfect blend with sports psychology.
Kelly has an extensive clinical background. She has completed research on how exercise affects
cognitive function across the lifespan, published research on combating obesity and diabetes with
exercise in children on the Gila Indian Reservation, and spent three years as the executive director
and exercise physiologist at an elite training facility.
Kelly taught Sport Psychology at Arizona State University in the Professional Golf Management
Program and is currently teaching Fitness and Nutrition at Mesa Community College. From teaching
to coaching elite athletes and working with clients to break through that next weight loss plateau,
Kelly's methods have brought significant success for her students and clients. She believes that
addressing the psychological component coupled with helping people set proper goals moves
people to success.
Kelly completed Ironman Arizona and is a two-time finisher of Ironman Lake Placid. She is also
learning to play the ukulele in her spare time.

Ben Hook
Ben Hook was born in Indianapolis, Indiana but has lived in Arizona for 12 years. He is currently
attending the Barrett Honors College at ASU Majoring in Biomedical Engineering/Pre-Medical
Studies. When he's not studying for his MCAT or regular classes, Ben enjoys playing volleyball,
weightlifting and singing. In high school, Ben ran Cross-Country for 4 years and played Volleyball for
3 years winning a State Championship his senior year.
Ben has been a part of the Tri2BFit team for 2 years. He enjoys working with all different ranges of
clients to help them achieve their goals - anything from being pain-free, to losing weight, or even
becoming stronger and more athletic.
Ben has aspirations to become a Pediatric Cardiologist and enjoys studying anything that involves
Biology or Health Sciences.
Ben is also currently training to ride his bicycle across the United States from the Pacific Ocean to
Washington DC in June of 2015 for a philanthropic organization known as The Ability Experience.
He will be riding on average 100 miles a day for two months and working with people with disabilities
during the time he is not on the bike.
Drew Cring

© 2013 Tri 2 B Fit, LLC
Call Us: 480.606.8462 625 S Smith Road #12 Tempe, AZ 85281
Email us:

kelly@tri2bfitaz.com








Blog
Fitness Classes
Corrective Exercise
Home
Weight Loss & Fitness
Contact Us
Sport Specific Training
Our Team

Sport Psychology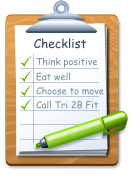 Drew Cring is from Tucson, Arizona and is attending Arizona State University majoring in Exercise
and Wellness. In his free time he enjoys working out, running in mud runs, and playing sports.
Growing up he played baseball for 15 years, soccer for 8 years and received a black belt in
karate after 6 years of training. He coached the McClintock High School freshmen baseball team
his first year of college.
He is planning to continue onto graduate school and pursue a career in physical therapy.
Drew is excited to be a part of the Tri2BFit team and help everyone achieve their goals and reach
their full potential.

Alex Karr
Alex Karr has lived in Arizona for the past nine years and is currently a junior studying Nutrition and
minoring in Business at Barrett, the Honors College at ASU. She is also involved in the Nutritional
Health Awareness Club, an organization on campus that visits local elementary schools to educate
students on the importance of a healthy diet. Alex has a variety of interests, including cooking, running,
and indulging in the weekly food truck visits in Downtown Phoenix.
After finishing her undergraduate education, Alex hopes to attend graduate school for her Masters in
Human Nutrition and become a Registered Dietitian.
Alex is thrilled to be a part of the Tri2BFit team, and hopes to contribute her knowledge of what makes
a healthy, balanced diet to motivate clients make progress both in and out of the gym.